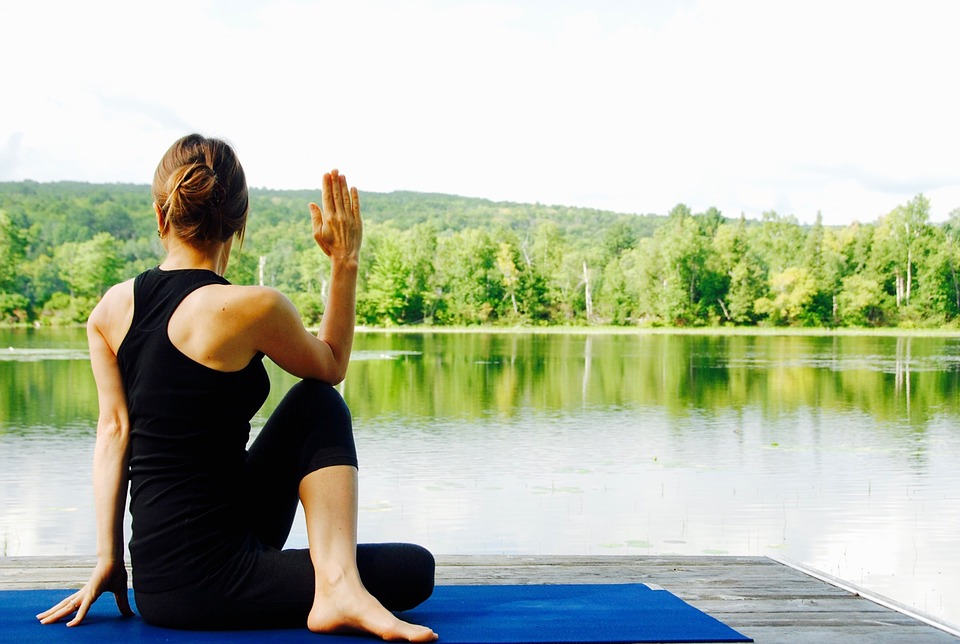 Aches and Gains radio guest Dima, a vice president in financial services, suffered a serious motorcycle accident and Jiu jitzu injury, which left him with a herniated disc and severe pain.
Always athletic, active and outgoing, Dima's chronic pain forced him to step away from the quality of life he was accustomed to, an all too common consequence many pain sufferers experience. Dima became introverted and withdrawn from social situations, especially related to sports. His focus shifted to work and graduate school studies.
For his injury, a discectomy helped. However, sitting at a desk for 12-15 hours each day meant the muscles in his back would seize up, worsening Dima's pain. Physical activity and ibuprofen only offered temporary relief from the soreness and tightness he experienced daily.
Then one day, Dima decided to go to a yoga learning center with his wife.
After practicing yoga for a few months consistently, Dima did not feel the need to take ibuprofen.
"If you do it right, it's a safe form of exercise," Dima said during our interview.
With yoga, Dima finds his back pain is 50 percent better. Walking out of a class he feels mentally and physically relaxed. When he misses a class, he can tell the difference. His pain is noticeably distracting.
Yoga is a four thousand year old mind-body Indian practice for physical well-being and mental relaxation. Its popularity exploded from 4 million practicing in 2001 to 20 million in 2011.
Yoga is known to help people suffering from the chronic pain associated with many types of conditions, including stress, arthritis, fibromyalgia, migraine, low back pain, and irritable bowel syndrome in teens. Research shows that yoga contributes to improved mobility and daily function, and better mood and psychosocial well-being.
Wellness consultant Christine Chen, another guest on my show on yoga, suffered degeneration in her spine from a lower back tear in a disc, and degeneration from stenosis in her neck. She felt pain down her arm when she sat up and sometimes felt numbness in her fingers. Christine tried massage to reduce her pain, but it wasn't enough. She wanted a solution other than surgery and turned to researching several yoga therapies. Instead of attempting them one at a time, she tried them all together and eventually they helped.
After years of research, practice, and mastery, today Christina lives a life free of severe pain and uses her expertise to help others accomplish the same. In her book Happy-Go-Yoga, she offers a collection of easy, fun poses that you can incorporate into your daily routine.
My personal favorite is the "Smartphone Siesta" which forces you to open your chest and put your phone out of sight.
Yoga works all of the muscles in your body and requires continual activity to see results. Because it will be a new form of exercise, your pain might worsen before you experience sustained, noticeable relief.
Dima attends yoga class twice a week. He feels that if you begin yoga, you should go at least twice weekly for two to three months to start seeing and feeling results.
8 Yoga Chronic Pain-Fighting Techniques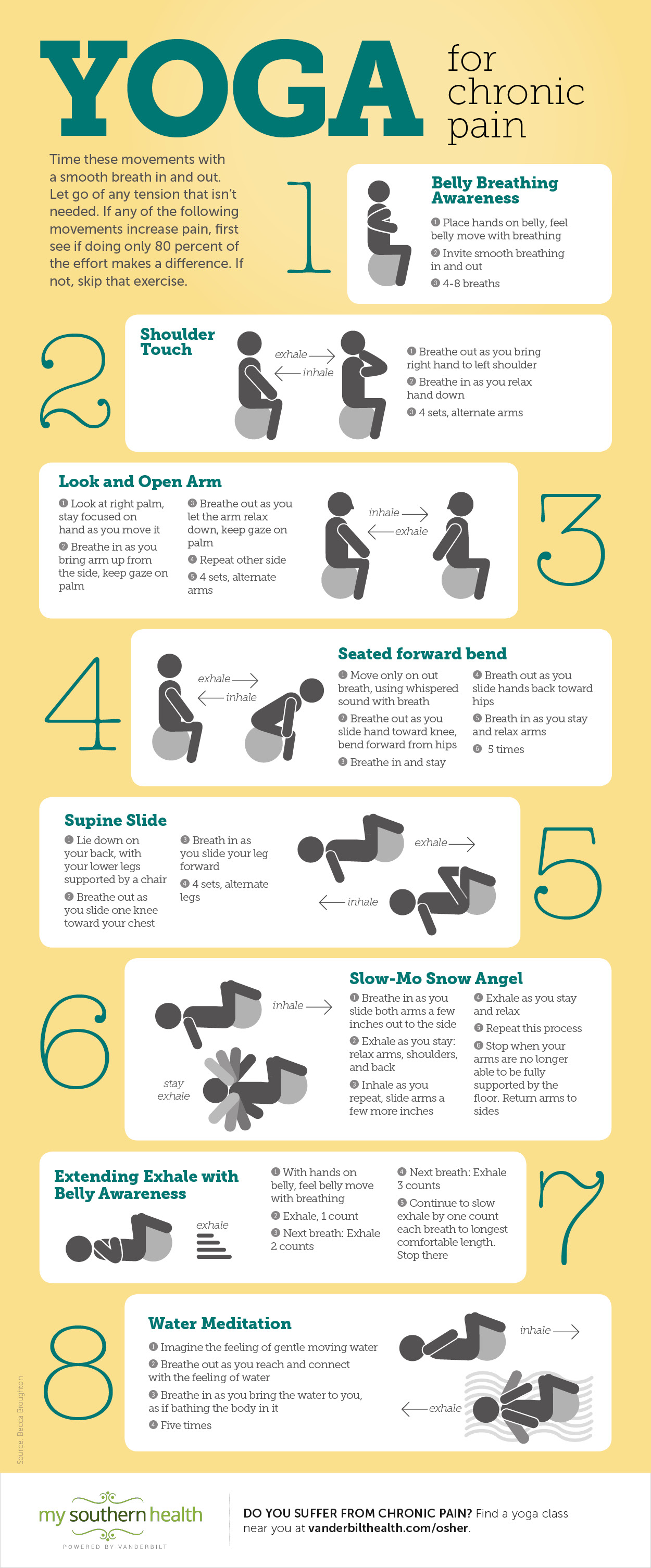 Source: My Southern Health
If you decide to try yoga to overcome your pain, consult your doctor first like any new exercise routine. As a yoga novice, understand your own body's limits and do not be intimidated by people that are more advanced. That voice in our heads that drive us to compare ourselves to others can be as limiting as your chronic pain. Neither should keep you from enjoying the quality of life your deserve. Yoga is about relaxing the body and the mind. Enroll in a class and be open to the experience. Keep going! Results come with consistency and persistence.
For further inspiration, listen to my full interview with Dima and Christine by signing-up to the Aches and Gains On-Demand podcasts. Please join today and you will gain access to my full library of innovative pain-coping shows plus new interviews as they are posted.
Listen now:
Yoga for Well Being and Comfort Part I
Yoga for Well Being and Comfort Part II
Remember, no one is immune to pain but together we can overcome it.