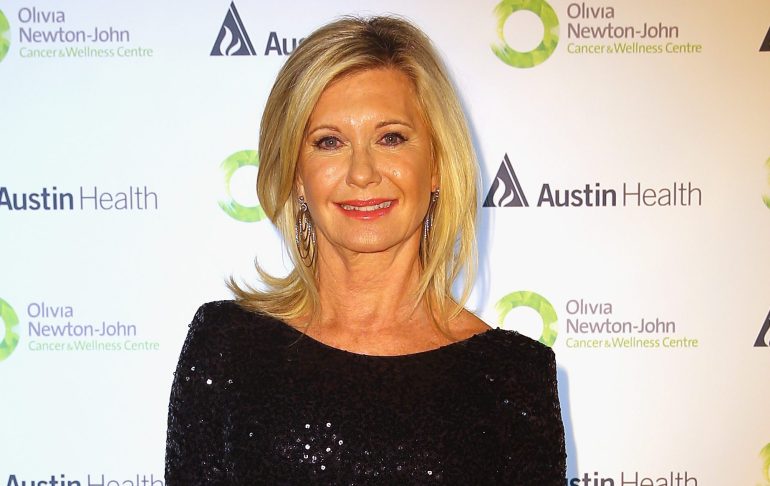 Cancer Returns
After 20 years of being in remission from breast cancer, Olivia Newton-John was diagnosed with a relapse. Though she initially just thought it was back pain, she wrote in a statement on Facebook that she soon learned her cancer had returned and "metastasized to the sacrum."
Metastasis is the development of secondary malignant growths from a primary site of cancer, and the sacrum, where Newton-John is affected, is situated between the two hipbones of the pelvis. Bone metastatic disease is the most common type of metastatic disease from breast cancer, which means a less aggressive treatment of photon radiation therapy will be used.
"I'd like to express my gratitude to all of you who sent such kind and loving messages of support over the last few months," she said. "Your prayers and well-wishes have truly helped me, and continue to lift my spirits. I'm feeling great and so look forward to seeing you soon." She wrote that she would be fighting the disease this time around with natural wellness remedies as well as radiation.
Medical Marijuana
Olivia has spoken out as a proponent for medical marijuana, saying that it has greatly helped her in recovery. "I use medicinal cannabis which is really important for pain and healing. It's a plant that has been maligned for so long and has so many abilities to heal. It's an important part of treatment, and it should be available. I use it for the pain and it's also a medicinal thing to do – the research shows it's really helpful," she said.
Some other holistic wellness remedies will likely include yoga, mindfulness, diet changes and exercise to try and prevent chronic pain. Suzanne Somers used a combination of holistic treatments with phototherapy patches made by LifeWave after her mastectomy. In fact, the risk of developing chronic pain from breast cancer is 20-30%, which is pretty high.
Radiation pain alone can cause many unwanted side effects as strong as chemotherapy for vomiting, nausea, loss of appetite, and weight loss. Radiation therapy can also cause skin altering effects including blackening of the skin, bubbling and scarring of the tissue. Many patients use opioids to manage the pain or SAVs to moisten the skin.
Looking to the future
Newton-John was first diagnosed in 1992 the same week her father died of cancer. Her recovery included nine months of chemotherapy, a mastectomy and breast reconstruction surgery. Following her initial bout with the disease, she became a fervent advocate for breast cancer awareness. In 2008, she launched the Olivia Newton-John Cancer & Wellness Centre in her native Melbourne, Australia. The new "We Go Together" campaign is looking to raise $1 million for the center.
Just three months after facing a relapse in her fight against breast cancer, Olivia Newton-John is "feeling great" and preparing a return to the stage for "Grease." She leaves her fans with a message of hope and optimism.